http://webtrickz.com/how-to-install-android-4-4-4-kitkat-based-cm11-rom-on-xiaomi-redmi-1s/
Recently, we shared a guide on "
How to install AOSP ROM on Mi 3
" following which several users asked similar thing for Redmi 1S. Fortunately, an unofficial CyanogenMod ROM (
CM11
) based on Android 4.4.4 KitKat is now available for Xiaomi Redmi 1S. A lot a users have been complaining about Redmi 1S heating issues and actual available RAM being too less, varying between 290-300MB. This is a known issue with
Redmi 1S
phones and might be fixed in future update. Perhaps, if you're concerned and at the same time interested in trying out a custom Android ROM on Redmi 1S, then you can do so using the procedure stated below. This CM ROM offers multiple languages, supports Dual-SIM, has Superuser Root enabled by default, and extends the available space up to 5.40GB as compared to 4.72GB with MIUI.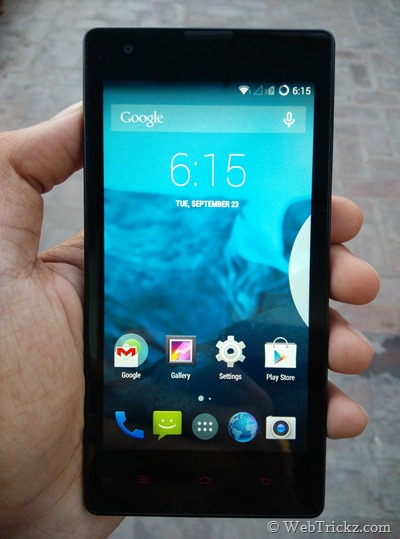 Other features include:
- Android 4.4.4 KitKat based ROM
- Stable and Smooth
- Optimized for balanced battery usage
- Cyanogenmod features and themes
- Built-in Superuser option
- Built-in DSP manager
- Includes Privacy settings
- SE Linux enabled kernel
NOTE
: This process will wipe your entire internal device storage, including your data such as photos and media files. So, make sure to backup all your important data first.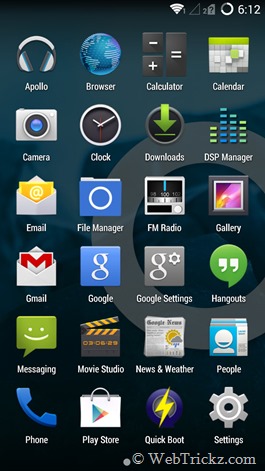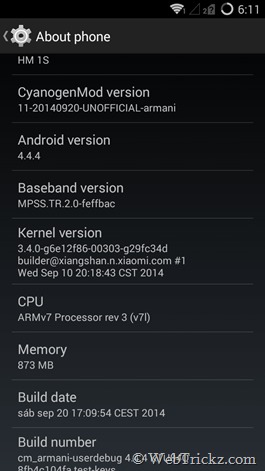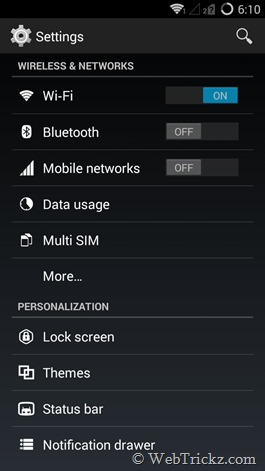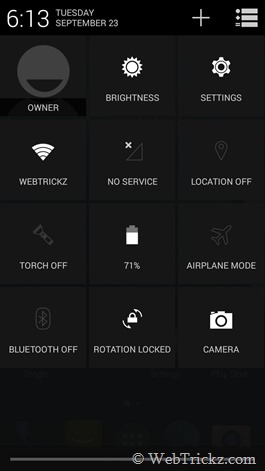 Guide to Update Redmi 1S to Android 4.4.4 with CyanogenMod 11 ROM –
Step 1
– Install CWM recovery (For Redmi 1S Indian version).
Download here
.
To install CWM on Redmi 1S, download signed_cwm_update.zip and rename it to update.zip. Transfer the update.zip to the root directory of phone. Go to Updater app, press menu button and then click "Reboot to recovery mode". Choose English, then select 'Install update.zip to system' and select Yes. Now go back and reboot to system.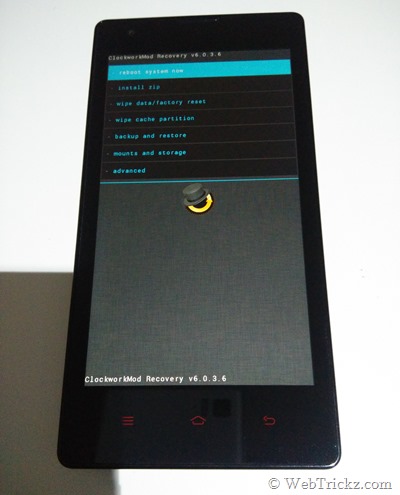 Step 2 – Make sure your device has a microSD card inserted, 2GB one would be sufficient.
Download the required files:
Then transfer both the above files to the root directory of your external storage (/sdcard1).
Step 3 – Flashing CM11 ROM on Redmi 1S using CWM Recovery
Reboot into CWM Recovery (Go to Tools > Updater > press Menu key and select 'Reboot to Recovery mode')
Take a Nandroid backup of your device
– It's highly recommended to take a backup via CWM in case you want to revert back to MIUI. To do so, go to 'backup and restore' and select the backup option. The backup includes MIUI ROM, user installed apps and their data and your settings. The backup will be saved on your external SDcard in the "clockworkmod" folder.
Note
: If you get an error while taking the backup then first perform a factory reset using CWM and then take the backup again. (This won't backup your installed apps though).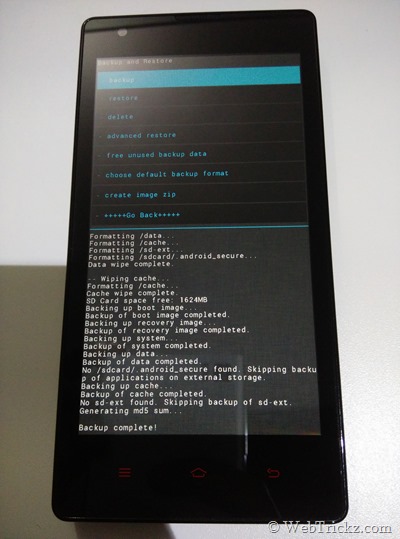 Select 'Wipe data/ factory reset' and confirm to wipe.

Select 'Wipe cache partition' and confirm.

Go back and select 'Install zip'. Select 'choose zip from sdcard' and then choose the 'cm-11-20140928-UNOFFICIAL-armani.zip' file and install it. Similarly, install the gapps.zip. (Make sure to flash the CM11 ROM file first).

Now go back and perform a Wipe data/ factory reset and Wipe cache again. Go to Advanced and 'wipe dalvik cache' too.

Reboot your phone by selecting 'reboot system now'. That's it!
Your phone should now boot up running CyanogenMod custom ROM.
P.S. We've tried this procedure on Redmi 1S (Indian version) and the CM11 ROM seems to be working fine, just has some minor glitches. Let us know if you've any questions!